2017-2021 Strategic Plan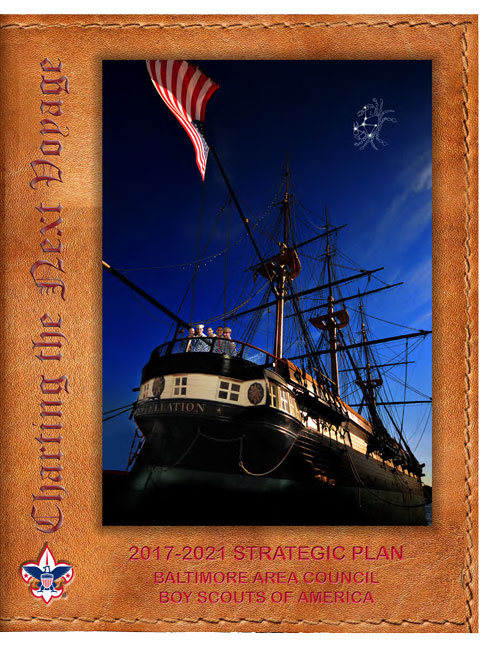 The Baltimore Area Council has been preparing today's youth for tomorrow's challenges since it was chartered by the National Council, BSA in 1911. The council has been delivering a quality Scouting experience to youth ever since.
To continue offering a top-notch program to our young people, a special group of dedicated board and at-large members came together to develop a strategic plan. As a group, we reviewed where our organization has been in our past, where we want to be in the next few years and recommend how we can get there. This is our strategic plan moving forward .
To help chart our course forward, we highlighted six areas or pillars to focus on. They are Resources and Finance, Marketing and IT, Leadership and Personnel, Program Impact, Membership and Properties .
We used the BSA Mission Statement as our guide: "The mission of the Boy Scouts of America is to prepare young people to make ethical and moral choices over their lifetimes by instilling in them the values of the Scout Oath and Law."
There are two things that every organization must do to meet the needs of its future. It must first define its mission and, secondly, it must extend itself and grow in ways that will help it accomplish that mission .
The Baltimore Area Council will carry out its mission to deliver a dynamic Scouting program in Baltimore City and the surrounding counties of Anne Arundel, Baltimore, Carroll, Harford and Howard .
The goal is to provide greater opportunities for youth to participate in Scouting, regardless of their surroundings, economic situation, religion, race or ethnic background as well as cultivating partnerships with communities, organizations, businesses, foundations and individuals.
The strategic plan was developed to help the council navigate its future from 2017 through 2021.
Our 2021 desired destination….to deliver the best Scouting adventure possible to an ever-increasing youth membership.
Stephen Woerner
Council Strategic Plan Chairman
Council Vice President - Administration

Download a copy here.