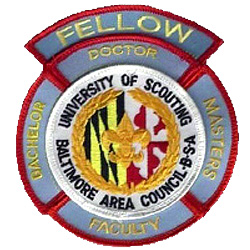 Date: Saturday, March 9, 2019
Location: Carroll Community College
Cost: $35 for adults, $25 for youth
Registration: www.baltimorebsa.org/uos

University of Scouting is the perfect opportunity to learn more about Venturing and about how to offer a top-quality program in your Crew. Bachelor's and Master's degrees are available for both youth and adults.
For adults, foundational courses are offered in the Bachelor's track and more-advanced courses in the Master's track, in Venturing and Sea Scouting, as well as courses in Cub Scouting, Boy Scouting, Commissioning, and District Committee. You can mix and match courses in any discipline, at any level.
Youth have a special day-long Bachelor's curriculum which focuses on skills that will help them be successful Crew leaders, and the youth Master's curriculum blends several "cohort" sessions with fellow youth participants with options from the adult course offerings.