Fund Your Unit by Earning 50% of Your Unit's Camp Card Sales!
Example:
Unit sells 100 Camp Cards @ $5 per card.
Total sale is $500 and Unit receives $250!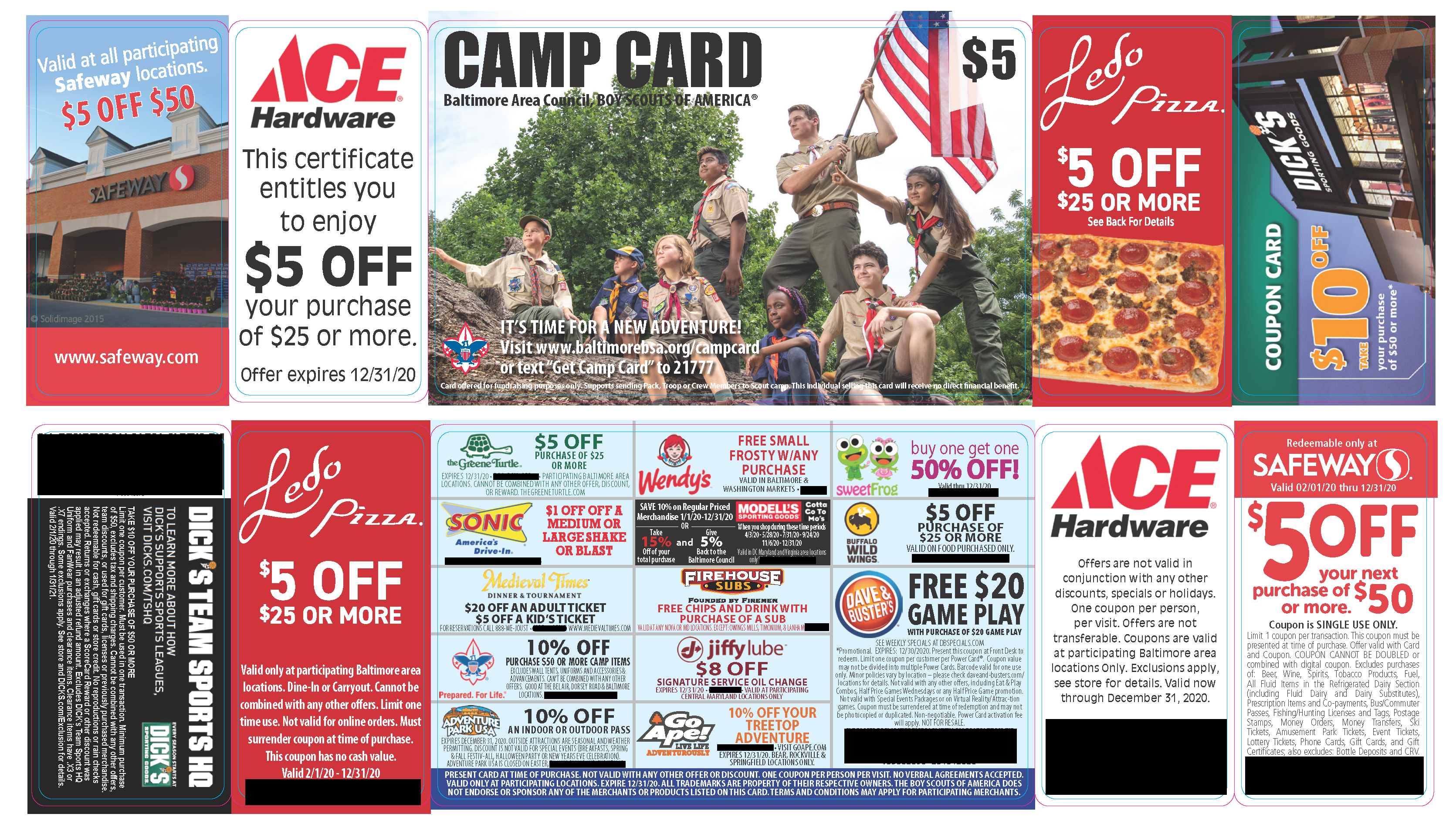 Offset Your Unit's Expenses by Selling the 2020 Camp Card!
All Units Can Participate
For more information, contact your District Camp Card Chair
What is a Camp Card?
A Camp Card is a value/discount card with preselected local and national vendors that offer a discount to the cardholder. The back of the card offers Reusable Discounts at local and national merchants, valid for 2020. Each card also offers "break off" One-Time Discount coupons.
Each card is sold for $5.00 and provides the customer with no less than $100.00 in savings.
Do Units Benefit from Selling Camp Cards?
YES! Units that sell Camp Cards get (at least) 50% of their Camp Card sales revenue! Camp Cards are a fun and easy way to fund your unit!
How Do Units Sell Camp Cards?
Units can sell to corporations, family and friends, and individuals at stores at "Show and Sales."
What are the 2020 Camp Card dates
The 2020 Camp Card Sale begins at the February 2020 Roundtable and ends May 18, 2020.
What are the Commission Options for Units that Sell Camp Cards?
There are two options, 50% of total Unit Sales go directly back to Units, or 60% of total Unit Sales go toward camp registrations at Broad Creek for 2020 camp year.
How Do I Sign Up and Get Started?
Click the link below to register your unit. For more information, contact your District Camp Card Chair or Staff Advisor
Q&A