Welcome to the Harford District Roundtable Website!
Serving all of your Unit Leader Needs!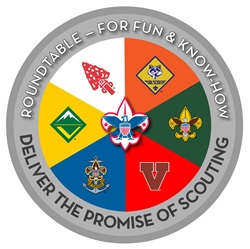 ---
What is Roundtable?
BSA Roundtables are a monthly gathering of Pack, Troop, Team, Crew, and District leaders.
Roundtables are put on by your District Commissioner staff to give leaders hands-on experience and
provide a forum for leaders to offer and receive help from their fellow Scouters. There are separate sessions
for Cub Scouts leaders, Boy Scout leaders, and Venturing leaders.
---
Roundtable Meetings
Our monthly District Roundtable meetings are held at the Church of Jesus Christ of Latter Day Saints in Abingdon, MD usually on the second Monday of the month from August through May starting at 7:00 PM. Please check the District Calendar for schedule.
The following groups are scheduled to meet during Roundtables:
Click on the Scouting Program links below to see schedules of planned topics/programs
Cub Scout Roundtable I Boy Scout Roundtable I Venturing Program Forum I OA Chapter Meeting
Please contact District Commissioner, John Gillette for additional Information
Location:
---
What is the Goal of BSA Roundtables?
To help motivate unit leaders and refresh their morale, enthusiasm, inspiration, and vision

provide unit leaders with skills, techniques, ideas, information, and know-how to make their unit operation successful

provide resources to help unit leaders in their roles
---
Who Should Attend Roundtables?
Everyone! Roundtables are for all leaders and interested parents. Whether you have been a leader since
Baden Powell's time or you're a brand new to the program..
---
Why should I go?
Because Roundtable is by, for, and about YOU! Every job is made easier by sharing the load, and Roundtables take on
the job of assisting you in creating and presenting your unit program. Sure, you can make your own program from scratch,
but you certainly don't have to! Roundtable is loaded with ideas and demonstrations of all kinds. Got a particular problem
you just can't work out? Come to Roundtable and ask the group – draw on the years of Scouting experience made available
just for you. Also find out the latest information regarding events and activities.