WAYS TO GROW YOUR UNIT
Develop a Unit Plan | Recruit Separated Youth | BeAScout.org | Summertime Passport | Webelos-to-Scout Transition
Spring Recruitment Made Easier
Summer is just around the corner…a great time for new families to join your Unit
A steady flow of youth into your Scouting program is essential to maintain your unit's health. New Scouts bring energy and enthusiasm to the program. Scouts who join in the Spring & get to participate in Spring and Summer activities stay in Scouting longer. There are a few simple things you can do this Spring to recruit new Scouts. Baltimore Area Council is excited to share resources to help!
Getting Started
Step 1:
Commit to conducting one or more recruitment efforts this Spring…
Cub Scout Packs
Visit local Kindergarten classes to recruit new Tiger Cubs
Invite new boys to an open house or Spring Pack activity (flyers available through your District Executive)
Encourage peer to peer recruitment (visit our website for "My Best Friend is a Cub Scout" resources)
Boy Scout Troops
Invite 5th graders to an open house or Spring Troop activity
Visit a local Cub Pack to invite Webelos Scouts to your Troop
Encourage peer to peer recruitment – create an incentive for bringing a friend
Venturing Crews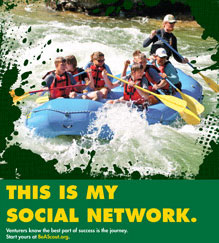 Visit a local teen youth group to recruit new Venturers this Spring
Invite new teens to an open house or Spring Venturing activity
Encourage peer to peer recruitment
Step 2:
Request recruitment materials (flyers, posters, yard signs, and other resources) from your District Executive.
Step 3:
Conduct your "Boy Talks," distribute flyers, host a Join Scouting Night, and submit the applications.
** Remember, Kindergarten boys can become Tiger Cubs, and 5th grade boys can become Boy Scouts after June 1st **
---
Developing Your Unit Membership Plan
"A good plan is like a road map: it shows the final destination and usually the best way to get there."
- H. Stanley Judd
Has your unit developed a year-round membership plan? There are certainly many units out there who have been successful because they have created a plan, continually refined it, and are enjoying the fruits of that labor.
If you're not sure where to begin, or want some more ideas, there are lots of resources to help! Visit our website at www.baltimorebsa.org/membership and keep coming back. New resources are added often! Your District's Membership Chair and committee are a great place to start. Your District Executive has lots of experience and available resources to assist you as well. If you want another person to bounce ideas off of, or need some guidance, please give me a call or e-mail. My information is in the header above.
Please, please, please don't wait until September to start thinking about recruiting. With a small amount of work on the front end, you're almost assured to be successful when your Join Scouting Night comes around.
---
Focus on Recruiting Separated Youth
What do you mean by "separated youth"?
A separated youth is a former member of Scouting who did not renew his or her membership for 2013/14. As we know, young people choose to leave Scouting for a variety of reasons. Some may lose interest, others may have too many other activities. However, there are many who depart our program because their unit wasn't a good fit, or the meeting night wasn't convenient. For those former Scouts, a phone call may be all it takes to get them excited and re-interested in the Scouting program.
We all want to grow our programs, and retention of Scouts is one of the best ways to do it! Here's how to make this happen:
1) Call your District Executive and request a list of separated youth in your area - Who's my "DE"? Click here.
2) Call the parents of those Scouts on the list (phone numbers are provided), and ask them to give Scouting another try
3) Invite them to a Pack meeting or activity that will immediately grab their interest
4) Sign them back up!
It's just that easy, and a lot of families out there will be very appreciative of the personal phone call and invitation.
---

BeAScout.org Updates Related to BeAScout.org
www.BeAScout.org has become a great membership recruitment tool, allowing easy access for parents to find programs local to them. Please make sure that your unit periodically updates your "Pin" so that interested families are contacting the appropriate person from your unit. Unit leaders and Committee Chairs can update this information through myscouting.org. Watch at your district's roundtable for BeAScout booklets, or visit www.baltimorebsa.org/membership to learn how to make these changes.
---
Summertime Passport
Want to enhance your Cub Scouts' summer program opportunities. How about a self-paced, family-friendly, summer long activity?! Look no further – we have our annual Summertime passport available again this year. This small booklet has Scouts and their families visiting a variety of locations throughout their area during the summer months to keep them excited and having fun!
These will be made available at May roundtables, and will also be available on our website in PDF format at www.baltimorebsa.org/membership. This is a great program, and it's fun, easy, and FREE!
All Scouts who complete the full passport and mail in their completed sheet will receive a commemorative patch in the mail!
---
Webelos-to-Scout Transition
As we head into April and Blue & Gold season is winding down, now is the time to ensure that all 5th grade Webelos have identified and are moving to a Boy Scout Troop in their neighborhood. Our major recruitment venue for Boy Scouts is through the Webelos-to-Scout transition. We need to make sure that every Webelos in your area is offered the opportunity to join a Troop that fits his and his family's needs.
Please work through your District Executive and Membership Chair to identify potential Webelos who have not yet selected a Troop to join. A personal phone call may make the difference!
For more information, please visit our website at www.baltimorebsa.org/membership.