INTERNATIONAL COMMITTEE
Our Mission is to enrich the program of Baltimore Area Council Scouts and Venturers by enhancing their awareness of international Scouting, and by promoting contact with Scouts of other countries. The International Committee meets quarterly at the Schapiro Scout Service Center.
CONTACTS
Chairman – Joe Scott at Joe_scott@troweprice.com 410-788-3420
Advisor – Stephen Reinhard at sreinhard@baltimorebsa.org 443-573-2534
Council International Representative – Burt Marsh at abmarsh3@comcast.net 410-381-2679
UPCOMING ACTIVITIES AND EVENTS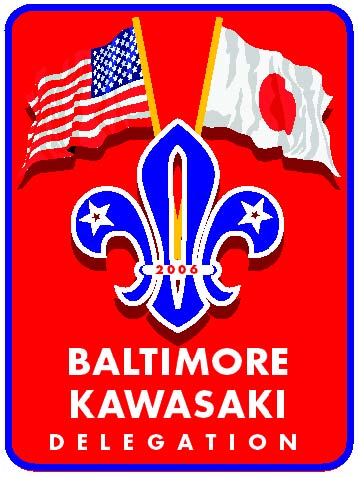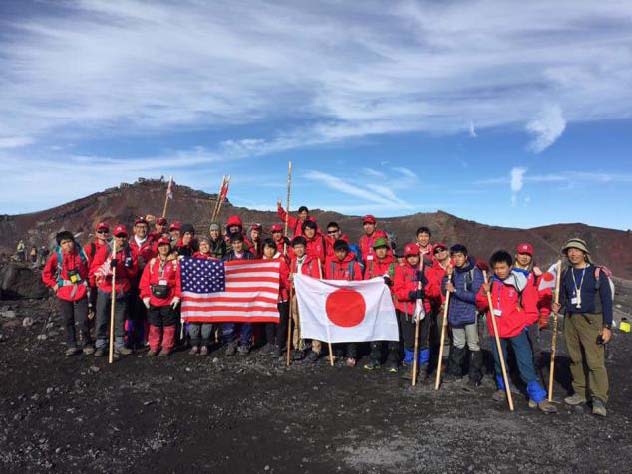 Baltimore Kawasaki Delegation - Venturing Crew 3776
The Baltimore Kawasaki Delegation is an extension of the Baltimore and Kawasaki, Japan sister city program. The scout exchange began in 1985 and is the longest running activity of the sister city program. It is a scouting-based cultural exchange program where scouts visit each other in alternating years. Venturing crew 3776 (significance of the number is the height of Mt Fuji in meters) was formed as the scouting unit for the exchange program. It is a co-ed Crew, as boy and girls participate in scouting in Japan. 2017 Flyer click here. Details click here.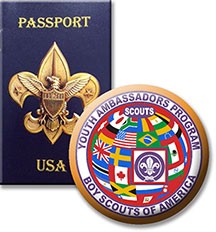 YOUTH AMBASSADOR PROGRAM - Details click here
Passport DC 2017 (May 1-31, 2017*) is a month-long journey around the world highlighting DC's thriving international diplomatic community and its lively and varied culture. Celebrated annually in May, which is International Cultural Awareness Month in Washington, Passport DC is 31 days of programming by 70 embassies and more than 40 of DC's very best cultural institutions. Details click here.
2019 WORLD JAMBOREE – The 2019 World Scout Jamboree will be held July 22 through August 2, 2019, at The Summit Bechtel Family National Scout Reserve in the beautiful mountains of West Virginia, USA. Unlike any other youth event, a world Scout jamboree invites you to surround yourself in the cultures of the world by joining your new Scouting friends at a single destination for 12 unforgettable days. The jamboree experience extends beyond your home—and beyond the boundaries of our host countries—to create a global adventure that will last a lifetime. For Boy Scouts & Venturers. Details click here.
JAMBOREE ON THE AIR (JOTA) - Jamboree-on-the-Air, or JOTA, is the largest Scouting event in the world. It is held annually the third full weekend in October. JOTA uses amateur radio to link Scouts and hams around the world, around the nation, and in your own community. This jamboree requires no travel, other than to a nearby amateur radio operator's ham shack. Many times you can find the hams will come to you by setting up a station at your Scout camporee, at the park down the block, or perhaps at a ham shack already set up at your council's camp. For more information click here. BAC JOTA Event – TBD
JAMBOREE ON THE INTERNET (JOTI) - Jamboree-on-the-Internet, or JOTI, is an annual international Scouting event sponsored by the World Organization of the Scout Movement. Each year, during the third weekend in October, Scouts from around the world gather online to learn about other cultures and the activities in which other Scouts participate. They communicate with each other using Internet-enabled devices such as computers, laptops, tablets, and mobile phones. Last year, JOTI had nearly 16,000 Scouts and leaders from 146 countries registered in the worldwide JOTA-JOTI database! For more information click here.
AWARDS
INTERNATIONAL SPIRIT AWARD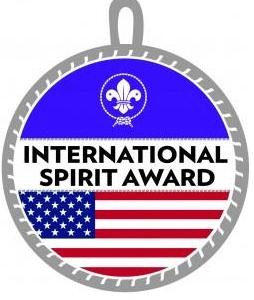 The International Spirit Award is a temporary emblem that is awarded to registered Cub Scouts, Boy Scouts, Varsity Scouts, Venturers, and Scouters who have completed the necessary requirements, have gained a greater knowledge of international Scouting, and have a greater appreciation and awareness of different cultures and countries.
This award serves as a replacement for (and therefore eliminates) the International Activity emblem and the Youth Exchange emblem.
International Spirit Award emblems cost $4 each and can be purchased from the International Department. Visit www.scouting.org/international/applications to fill out the application with the date that each requirement was completed. All requirements must be met within five years from the start of the award. Please mail the completed, signed application and a check (made payable to Boy Scouts of America) to:
Boy Scouts of America
International Department, S221
1325 West Walnut Hill Lane
P.O. Box 152079
Irving, TX 75015-2079