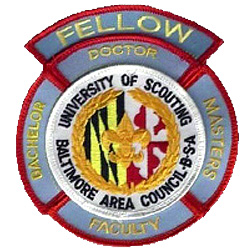 DISTRICT COMMITTEE PROGRAM
DCS 101
Function of the District Committee
This basic course will examine the four functions of the District Committee, duties of each, as well as those of the Key-3.
DCS 102
Function of the District Activities and Civic Service Committee
Participants will learn how the District Activities and Civic Service Committee strives to carry out its part in council-wide activities and supplement unit and council activities with other fun, memorable experiences that dramatically capture the attention of the whole Scouting community. Special attention will be given to Camporees, Recognition Meetings and making civic service relevant to youth.
DCS 103
Function of the District Advancement and Recognition Committee
This course is intended to guide advancement chairs and committee members on how to build high-performing advancement committees at the unit, district, and council level. It defines the roles, responsibilities, and organization of these committees and explains how to evaluate their effectiveness.
DCS 104
Function of the District Camp Promotion and Outdoor Committee
The course will cover how the District Camping and Outdoor Program Committee can help units deliver adventure, challenge, teamwork opportunities, confidence building, fun, and other new and exciting experiences to young people. We will examine outdoor experience at all levels of the scouting program and discuss the districts role in promoting our council summer camps, High Adventure opportunities and Scouting's National Honor Society, the Order of the Arrow.
DCS 105
Function of the District Fund Development (Finance) Committee
Fund Development is essential to providing services to our scouts, units and community. This course will detail the many finance roles of the district including soliciting Friends of Scouting, facilitating Product sales (popcorn, camp cards, etc.), promoting Endowment gifts and reviewing Unit-Money Earning Applications.
DCS 106
Function of the District Membership Committee
Participants will be introduced to the charter concept of the BSA and to the tasks of the District Membership Committee. Learn how to gather information, cultivate relationships with community organizations, organize Units, and help youth to join existing Units. The course introduces the five sources of membership growth as well as the importance of developing a District Growth Plan.

DCS 107
Function of the District Training Committee
The training management process will be explained. Also covered will be the components of the District training team, the importance of Unit inventory and planning a District training calendar and training events.
------------------------------------------------------
DISTRICT COMMITTEE PROGRAM
Level 300 Classes

District Cub Scout Day Camp
The participant will learn the aims of the Cub Scout Day Camp and how to put on a well-planned program.
DCS 305
Smart Growth Planning
This advanced membership course will examine the resources needed to develop a District Growth Plan. Participants will learn how to recognize under-served areas of their District and identify potential chartered organizations in their communities. This information will form the foundation for developing a plan to see that every youth residing in a district geography has the opportunity to join in the adventure of Scouting.
DCS 307
Planning District Events
A deeper look at the factors to consider when planning and executing district events. This course will help the District Staffer organize and prepare for a year's worth of Cub Scout and Boy Scout events such as Klondike Derbies, Camporees, Webelos Woods and Merit Badge Madness. If you're new to this, we will help get you started on the right path. If you're an old hand, perhaps you can share some lessons learned.
Training the Chartered Organization Representative -

NEW for 2018
The District Membership Committee is responsible for ensuring that each Chartered Organization Representative (COR) is trained and that each Instutitional Head understands the importance of the role. This course will examine techniques to strengthen the District Committee and the relationship with each Chartered Organization through proper training of each COR.
Your Finance Committee can be over-the-top successful! This class shows how to plan for the successful execution of a district Friends of Scouting (FOS) campaign. We'll cover the guidebook, and show you how to put some BAM! in your FOS program. Your success at recruiting Friends of Scouting is critical to our goal of reaching every potential youth in our council and providing the best scouting program possible. If you're an old hand, perhaps you can share some lessons learned.
Function of the District Nominating Committee
The District Committee is responsible for increasing the effectiveness of Scouting across an area of our community through the achievement of district goals. We will examine the important, year round role that the District Nominating Committee plays in selecting a slate of competent officers and members at large to carry out the functions of district operation.
Making Training Records Work for the District
Sometimes reaching "100% Trained" is as much a matter of record keeping as it is of training leaders. This class will provide live demonstrations of the training tools available on the my.scouting.org website. Learn how to make training records accurate and how District volunteers can get direct information on training and other database reports. See the proper way to record training and learn how District and Unit Key 3 can update records with plenty of time for your questions and answers.
This page updated 12/4/2017