The National Pike District
Serving the youth of Howard County, MD

District Chair: Dan Lentz
District Commissioner: Brian McGivern
District Executive: Caitlin Christy, 443-573-2527 / cchristy@baltimorebsa.org
---
Click HERE to download the 2019 National Pike District Calendar!
(last updated 1/30/2019)
---
Sign-up for District SMS Information!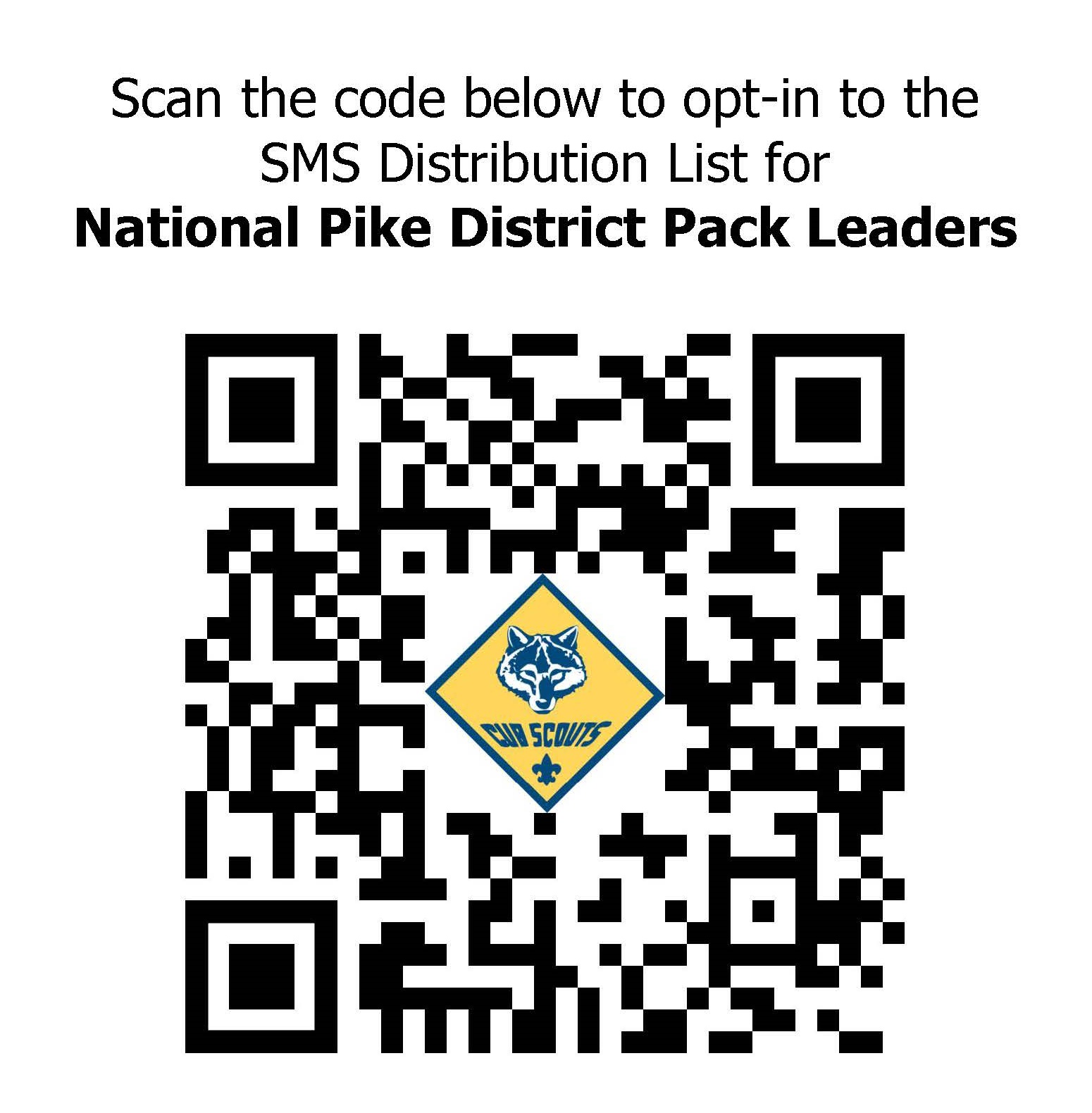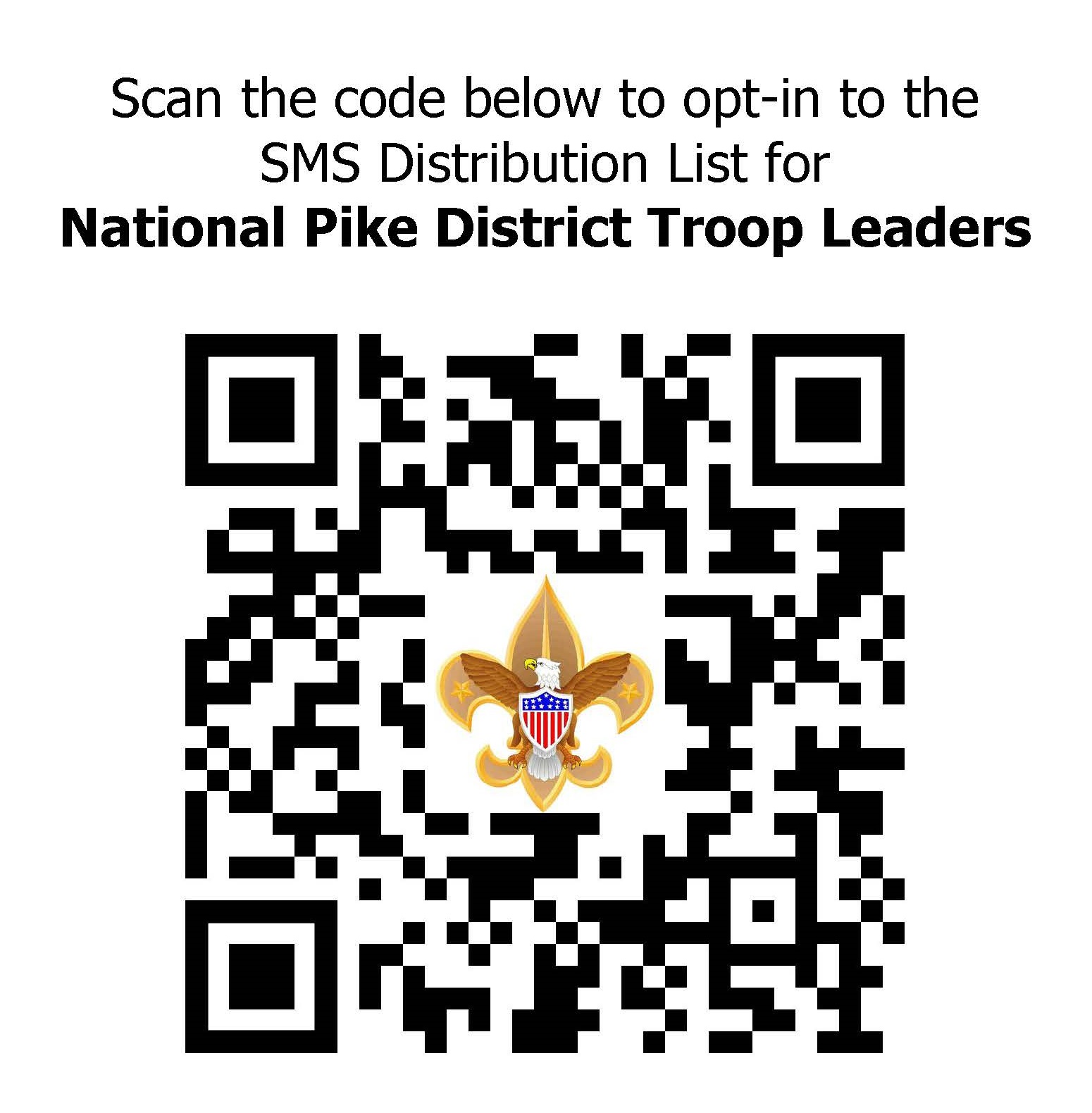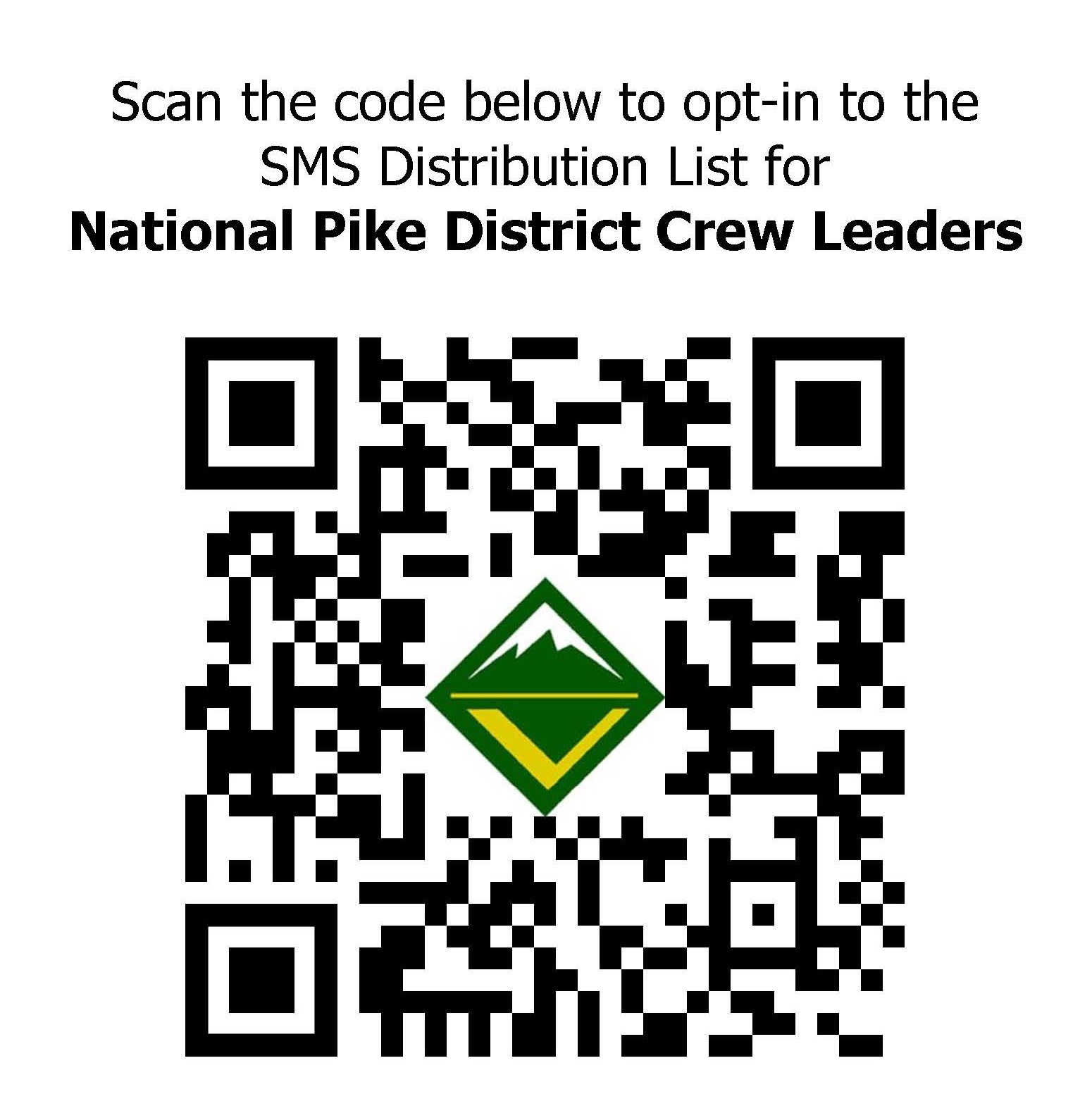 https://bit.ly/NPDPACKLDRS https://bit.ly/NPDTROOPLDRS https://bit.ly/NPDCREWLDRS
(Or click the respective links below each code)
---
DISTRICT NOMINATING COMMITTEE
Each year, per our Council Bylaws, the National Pike District convenes a Nominating Committee to make recommendations and select the leadership of our district for the coming year (May 2019 to May 2020).
The Nominating Committee is responsible for selecting District Chair, Vice-Chair(s), and Members-At-Large. This committee also recommends to the Council Executive Board a District Commissioner candidate. If you like to make a nomination, please send the information in writing or email to:
National Pike District Nominating Committee
Caitlin Christy, Secretary
701 Wyman Park Drive
Baltimore, Maryland 21211
ANNUAL BUSINESS MEETING NOTICE
The National Pike District Annual Business Meeting will be held on Tuesday, May 7th at 7:30 P.M.
The location is: Bethany United Methodist Church
2875 Bethany Lane
Ellicott City, MD 21042
At this meeting, the district officers and members-at-large will be elected. Voting members of the district include current officers, members-at-large and chartered organization representatives.
---
Food! Fellowship! Recognition!
Annual National Pike District Fellowship Dinner
Tuesday, June 4, 2019 - 6:00PM gathering; 6:30PM dinner
Bethany United Methodist Church
2875 Bethany Lane, Ellicott City, MD 21042
Cost: $24 per person ($30 per person on/after May 26 until close of registration on June 1)
Register here: http://www.baltimorebsa.org/nationalpike/fellowship-dinner or at Program Launch by check
---
Council Spring Venturing & Sea Scouting Banquet
The annual Spring Venturing & Sea Scouting Banquet will be held the evening of Sunday, May 5. This is an opportunity to recognize members of your Crew who have earned advancement in the past year, celebrate the accomplishments of Venturing in the Baltimore Area Council, and award the Venturing and Sea Scouting Leadership Awards.
Date: Sunday, May 5 from 5:00pm to 8:00pm
Location: VFW Post #160, 2597 Dorsey Road, Glen Burnie, MD 21061
Cost: $25 per person, includes dinner catered by Outback Steakhouse
Registration: www.baltimorebsa.org/venturingbanquet
Crew Advisors are encouraged to submit the names of their youth who have earned awards/recognitions in the past year at https://goo.gl/forms/KdyyY6hZwwuKmTcz1
---
Youth Protection Training - YPT
All registered adults must have completed the updated course.
If you still need to take the training, click here for more information.
---
District Events Blog

Click here or on "District Events Blog" in the menu bar above. To submit articles, contact Lynn at areascouter@yahoo.com or Caitlin at cchristy@baltimorebsa.org
The National Pike District Key 3
Dan Lentz – District Chair
Brian McGivern – District Commissioner
Caitlin Christy – District Executive
---

UPCOMING EVENTS - Click on any event listed below for more information:
Webmaster: Please contact the District Executive, Caitlin Christy - phone: 443-573-2527 / email: cchristy@baltimorebsa.org