National Pike District
Events Blog
---
- Fishing Derby 2019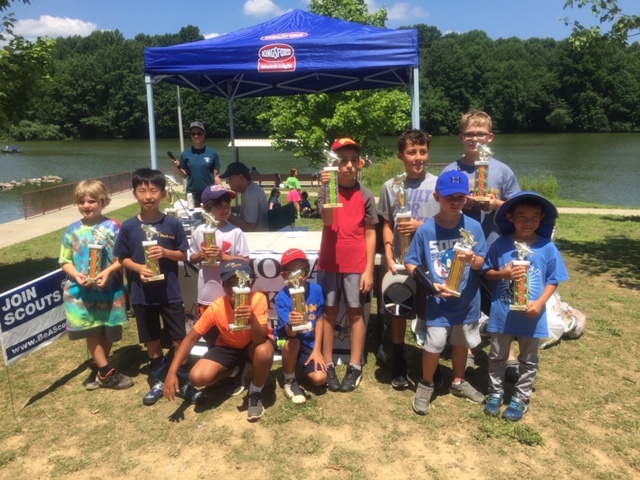 Thank you to everyone who participated in the 2019 Fishing Derby on July 13th. We had a great turnout with over 150 scouts, adults, and siblings who spent a glorious morning fishing at Centennial Lake. Scouts from 30 packs and troops participated. Congratulations to Nico Becker from Pack 1702 for catching the 1st Place Winning, 12-ounce bass.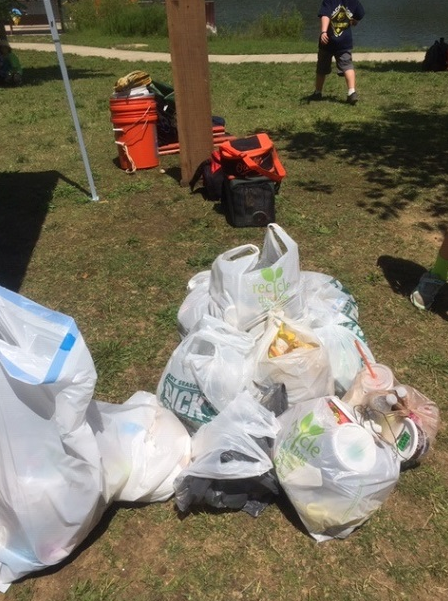 The Scouts also did their good turn by collecting trash along the lake, leaving the park better than they found it.
---
- Flag Retirement 2019
Photo Credits: Tim Paulin and Bob Lowell
Over 1000 flags were prepared for burning on June 29 by American Legion Post 156, National Pike Troops 851 and 759, and other volunteers. Thanks to all who participated.
---
- Last Food Drive of 2018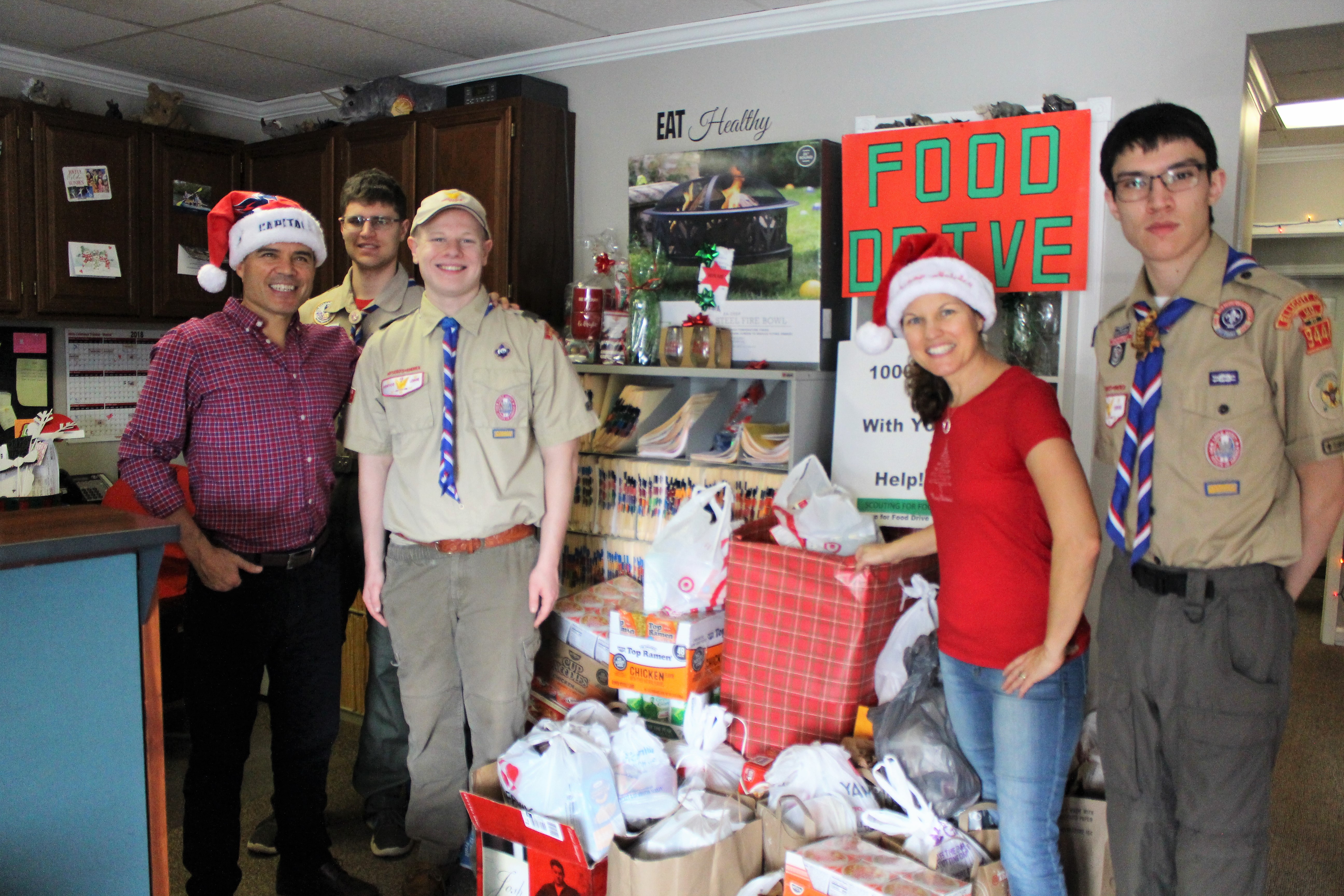 Pictured (from left to right):
Dr. Jeff Muneses, Matthew Katz, Colin McMurtray, Dr. Kerry Muneses and Collin Meredith
Scouting for Food in Howard County partnered with Drs. Jeff and Kerry Muneses, Muneses Chiropractic Center in Ellicott City, during their annual food drive which benefited the Homewood Center, the alternative middle and high school for the Howard County Public School System.
Eagle Scouts Matthew Katz, Colin McMurtray and Collin Meredith, from Boy Scout Troop 944, accepted the donations of 1,200 lbs. of food and delivered it to the Homewood Center on December 21, 2018.
This year marks the 25th year Dr. Jeff and Kerry Muneses have held the food drive, and they are grateful for the generosity of their patients.
The food drive brought the total of food collected in Howard County to 52,515 lbs. during the 2018 Scouting for Food campaign. Scouting for Food is taking place on March 23, 2019, and we look forward to another successful food drive which will benefit 25 food pantries in the county.
---
- National Pike Scouts from various units honored our countries veterans at the Howard County Veterans Day Parade on November 11, 2018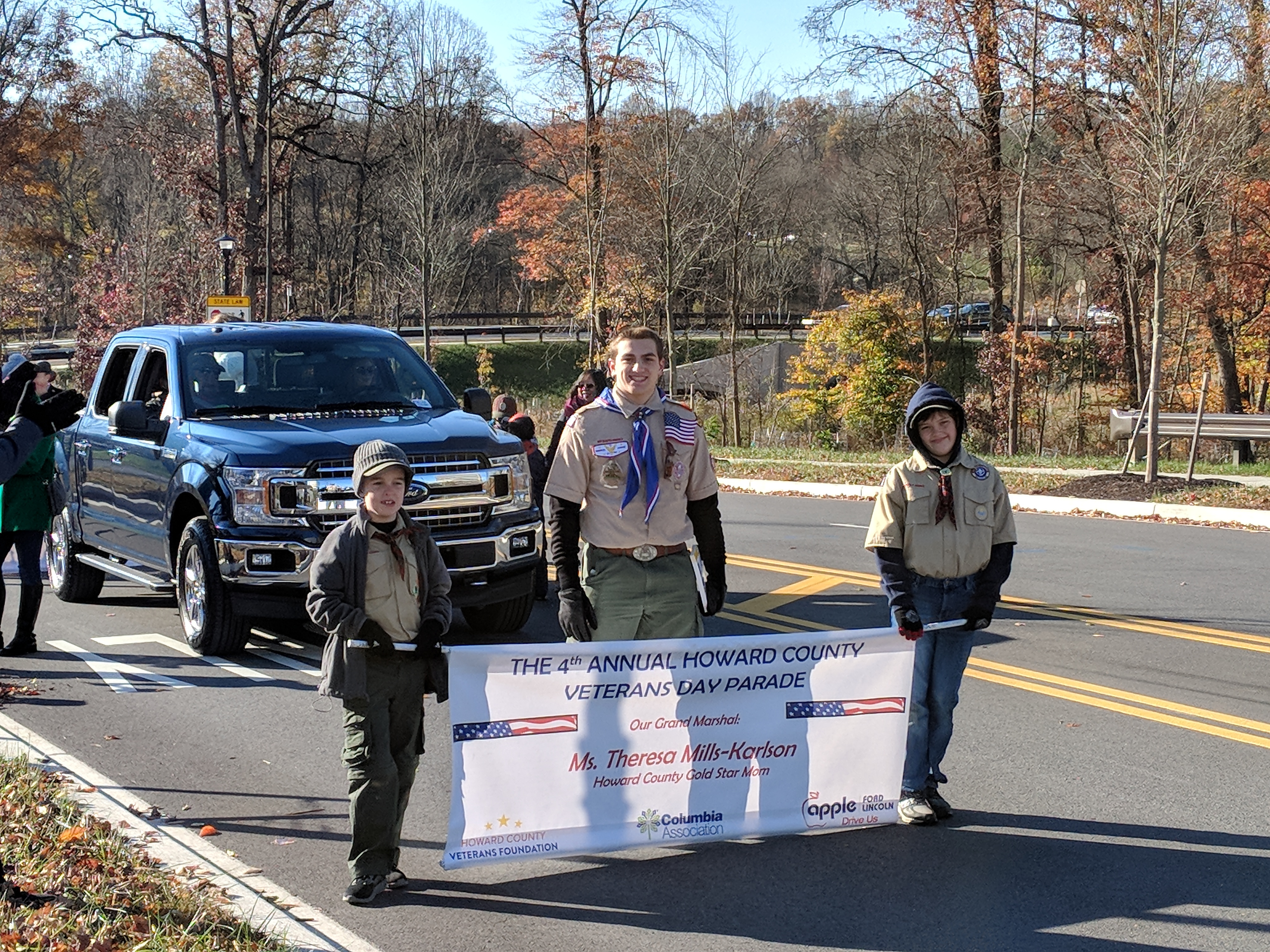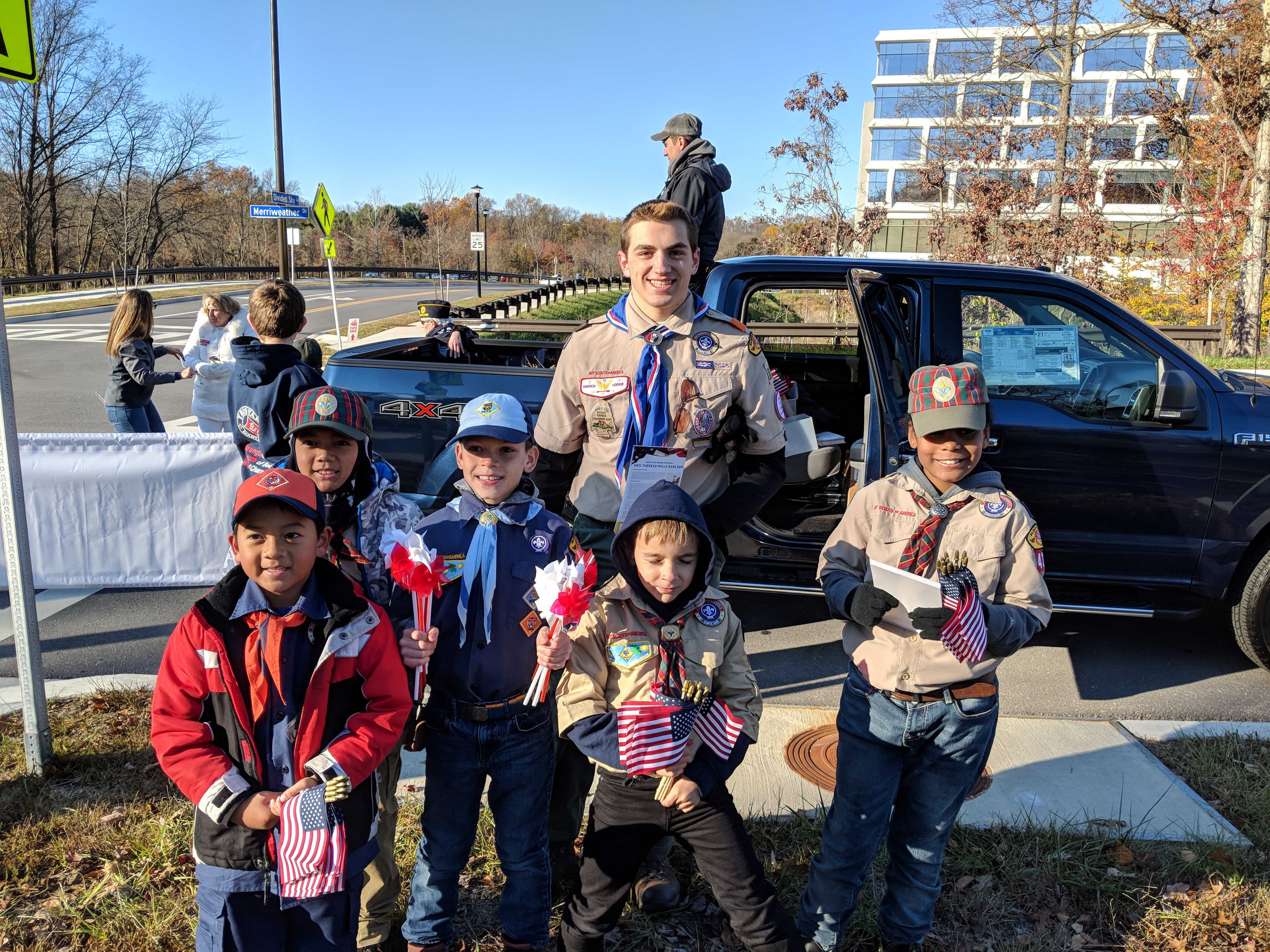 ---
- On the Honor Row at the Baltimore Ravens Home Opener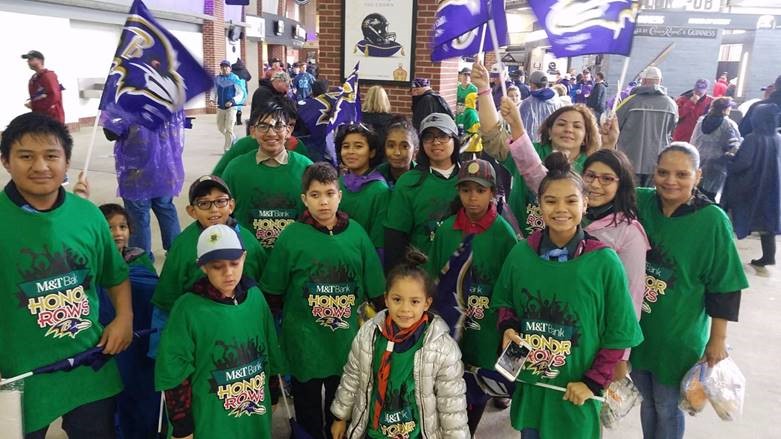 It was cold, it was wet, but Pack/Troop/Crew/Post 2010 showed up and had a blast at the Baltimore Raven's Home Opener as part of the M&T Bank Honor Row.
---
- 2018 FISHING TOURNAMENT
On Saturday, July 14, 2018 National Pike District held its Annual Fishing Tournament. This year's event was held at Centennial Park and was enjoyed by 118 participants, including cub scouts, boy scouts, adult scouters, and siblings from 29 different packs and troops. Trophies were awarded to scouts for the top ten largest fish (by weight). There was a trophy awarded to the adult with the largest fish by weight and new this year was a trophy for the largest fish by weight caught by a sibling. Units were awarded with a ribbon for the largest total catch (three largest fish by total weight).
The individual Scout winners were:
First place: Nico Becker, Troop 1702; second place: Jeremy Assanassios, Pack 361; third place: Reese Garvey, Pack 432; fourth place: Jonathan Ruiz, Troop 2010; fifth place: Sam Liebling, Pack 794; sixth place: Ethan Sogn, Pack 333; seventh place: Brooks Frels, Pack 617; eighth place: Juan Aguirre, Troop 2010; ninth place: Kyle Wind, Pack 617; tenth place: Michael Blank, Pack 917.
(The recipient of this year's first place prize, Nico Becker from Troop 1702, won with a 338 gram / 11.92 ounce, 30.5 cm / 12 inch small mouth bass.)
The winner of the adult trophy was Richard Perrier with Pack 333.
The winner of the sibling trophy was Josh Becker with Troop 1702.
The Units receiving ribbons were:
First place: Pack 617; second place: Pack 333; third place: Troop 2010; fourth place: Pack 361; fifth place: Pack 495; sixth place: Troop 1702; seventh place: Pack 432; eighth place: Pack 917; ninth place: Pack 1702; tenth place: Pack 794.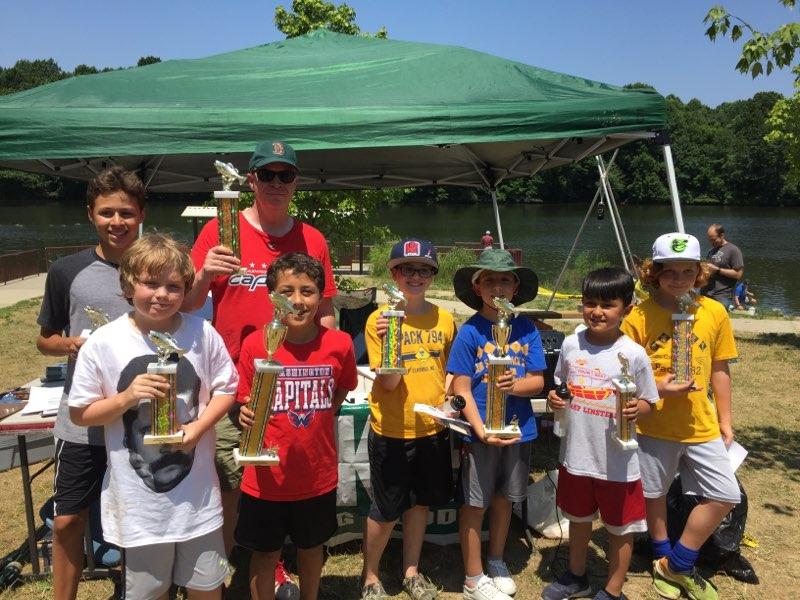 A special thank you to Dick's Sporting Goods for their donation of gift certificates. Scouts were awarded prizes for collecting the most trash, first fish, and "Name the most…" trivia contests.
National Pike extends its great appreciation to Randy Miller and Michael Katz for coordinating the event. Thank you to Howard County Recreation and Parks for allowing us to use Centennial Lake.
---
- Local Boy Scout from Troop 874 featured in "Bryan on Scouting" article
Baltimore Scout brilliantly compares his Scouting journey to building a campfire by Bryan Wendell on Thursday, August 9, 2018 - view the article here.
---
- The American Legion's Department of Maryland Eagle Scout of the Year for 2018
The Commander of the American Legion's Department of Maryland, James Marchinke, announced that Jacob L. Witlin, of Ellicott City, Maryland, is the Department's 2018 Eagle Scout of the Year selection. Witlin received his Eagle Scout Rank on February 28, 2017, as a member of Boy Scouts of America Troop 874, chartered by the Glen Mar United Methodist Church in Ellicott City. For his Eagle Scout project, he built a dock with railings and built-in seating overlooking a pond at the Lubavitch Center of Howard County. He is a junior at Mt. Hebron High School.
Eligibility for The American Legion's Eagle Scout of the Year award and scholarship includes being a registered, active member of a Boy Scout Troop, Varsity Scout Team or Venturing Crew chartered by an American Legion Post, Auxiliary unit or Sons of the American Legion Squadron or be the son or grandson of a Legionnaire, Sons of the American Legion or American Legion Auxiliary member. Jacob is the son of Terri and Michael Witlin. Both Michael and Jacob are members of the Sons of the American Legion Squadron at Post 60 in Laurel, Md.
The Department of Maryland's Boy Scout Committee selects the Eagle Scout who is active in his religious institution, earns the Boy Scout religious emblem for his faith, and demonstrates practical citizenship in his church, school, Scouting and the community. The Eagle Scout must describe his activities in those areas and provide letters of recommendation and testimony.
The selection committee reviews this material and selects the top applicant for the award which provides a $500 college scholarship and the opportunity to compete for Eagle Scout of the Year at the national level.
The Department winner's package is forwarded to the national office of The American Legion for their consideration in the national Eagle Scout of the Year competition. The winner of that competition receives a $10,000 scholarship. Three runners-up each receives a scholarship in the amount of $2,500.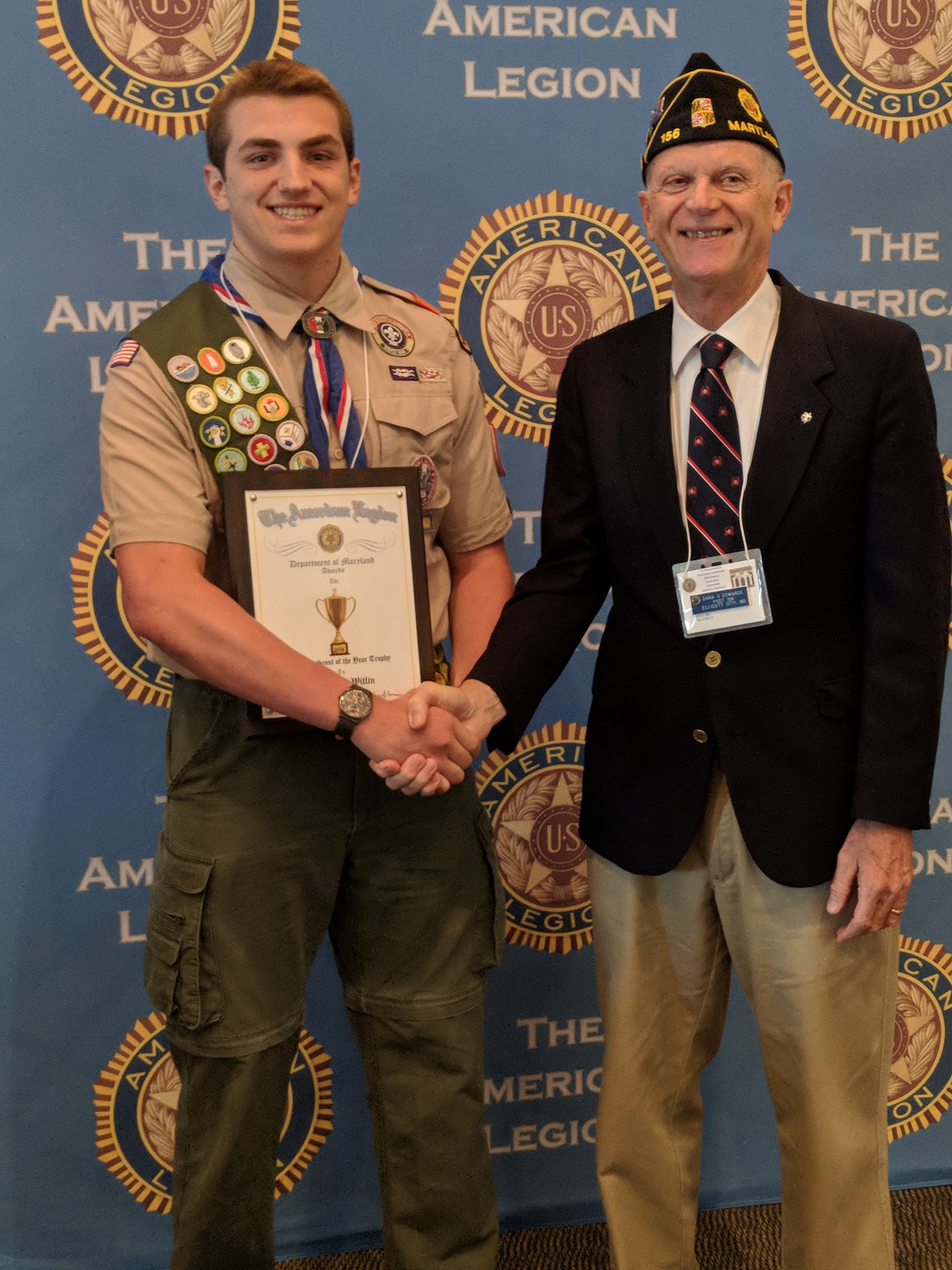 For additional information, please contact Dana V. Edwards, the Chairman of the Department's Boy Scout Committee. His email is dana_edwards@comcast.net or 410-292-5598 (cell).