National Pike District
Events Blog
---
- Local Boy Scout from Troop 874 featured in "Bryan on Scouting" article
Baltimore Scout brilliantly compares his Scouting journey to building a campfire by Bryan Wendell on Thursday, August 9, 2018 - view the article here.
---
- The American Legion's Department of Maryland Eagle Scout of the Year for 2018
The Commander of the American Legion's Department of Maryland, James Marchinke, announced that Jacob L. Witlin, of Ellicott City, Maryland, is the Department's 2018 Eagle Scout of the Year selection. Witlin received his Eagle Scout Rank on February 28, 2017, as a member of Boy Scouts of America Troop 874, chartered by the Glen Mar United Methodist Church in Ellicott City. For his Eagle Scout project, he built a dock with railings and built-in seating overlooking a pond at the Lubavitch Center of Howard County. He is a junior at Mt. Hebron High School.
Eligibility for The American Legion's Eagle Scout of the Year award and scholarship includes being a registered, active member of a Boy Scout Troop, Varsity Scout Team or Venturing Crew chartered by an American Legion Post, Auxiliary unit or Sons of the American Legion Squadron or be the son or grandson of a Legionnaire, Sons of the American Legion or American Legion Auxiliary member. Jacob is the son of Terri and Michael Witlin. Both Michael and Jacob are members of the Sons of the American Legion Squadron at Post 60 in Laurel, Md.
The Department of Maryland's Boy Scout Committee selects the Eagle Scout who is active in his religious institution, earns the Boy Scout religious emblem for his faith, and demonstrates practical citizenship in his church, school, Scouting and the community. The Eagle Scout must describe his activities in those areas and provide letters of recommendation and testimony.
The selection committee reviews this material and selects the top applicant for the award which provides a $500 college scholarship and the opportunity to compete for Eagle Scout of the Year at the national level.
The Department winner's package is forwarded to the national office of The American Legion for their consideration in the national Eagle Scout of the Year competition. The winner of that competition receives a $10,000 scholarship. Three runners-up each receives a scholarship in the amount of $2,500.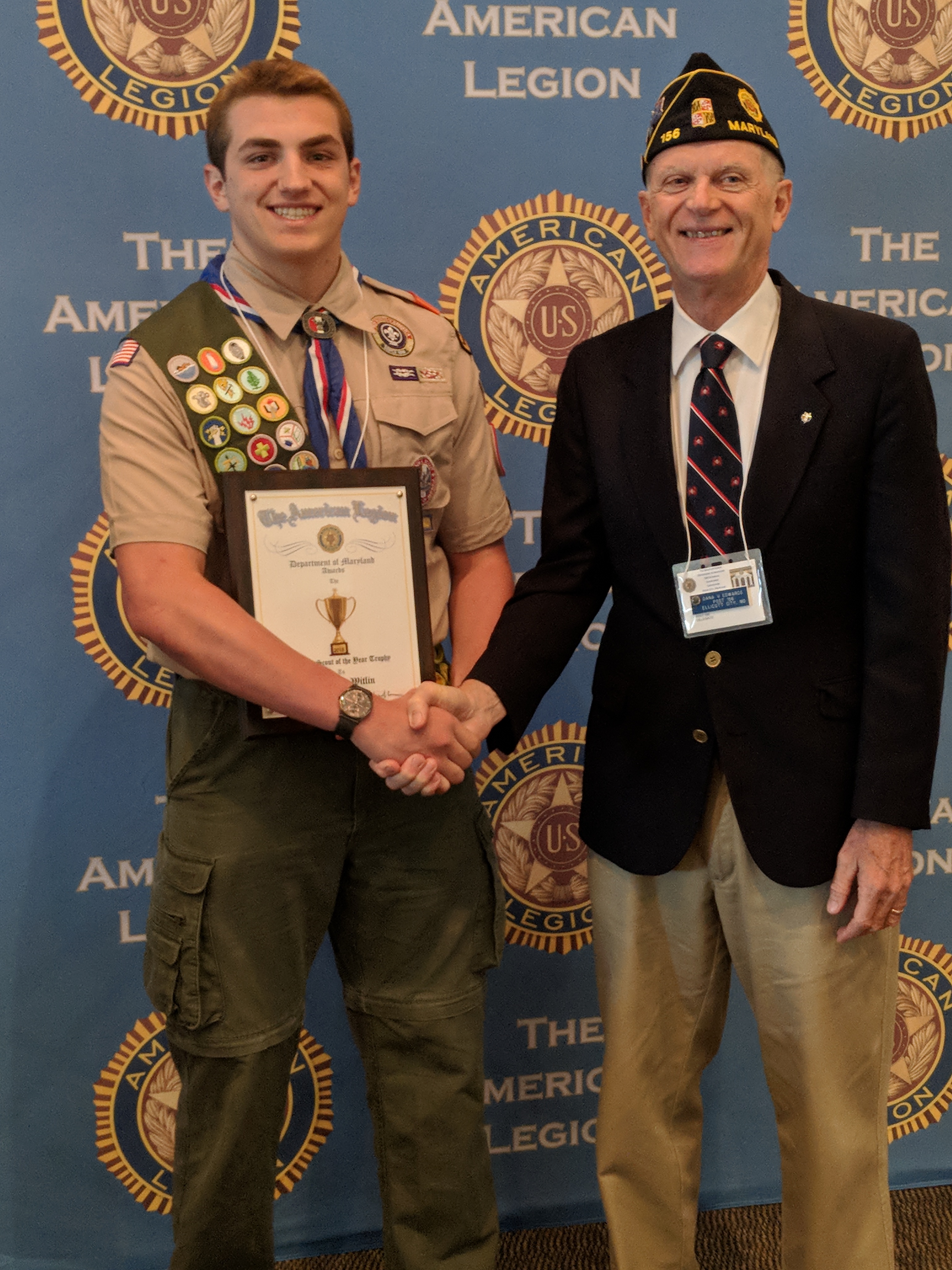 For additional information, please contact Dana V. Edwards, the Chairman of the Department's Boy Scout Committee. His email is dana_edwards@comcast.net or 410-292-5598 (cell).