Harford Chapter of the Nentico Lodge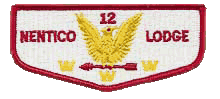 Harford Chapter Officers for 2014!
Chief – Thomas "Boomer" John Carr
Vice Chief of Program – Chris "Sarge" Hare
Vice Chief of Inductions – Paul Butz
Vice Chief of Brotherhood – Michael Mentzer
Vice Chief of Communications – Kai Namauu
Vice Chief of Elangomats - Matt Howard
For Troop elections Please contact: Dave Mentzer - Associate Advisor for Inductions - rdmentzer@comcast.net
For Arrow of Light Ceremonies Please contact: Nolan Phillips – Harford Chapter Adviser - Nolan.Phillips@Huber.com
Please give them your full support as we move forward making the Harford the Best Chapter in Nentico Lodge.
The OA Chapter meeting is normally held during Roundtable Meeting at the Church of Jesus Christ of Latter Day Saints in Abingdon, MD starting at 7:00 PM
Click for Harford Chapter – OA Election Request Form
Click for Harford Chapter – Arrow of Light/Graduation Ceremony Request Form
For additional information contact Nolan Phillips Harford Chapter Adviser, email: Nolan.Phillips@huber.com
Harford Chapter - Proposed Chapter By-Laws
At the last Chapter Meeting (November 10, 2014) a set of Harford Chapter By-Laws was proposed for approval to all active members of the Order of The Arrow in the Harford Chapter. These By-Laws were created to establish a set of ground rules for the Harford Chapter and to help the Chapter to run more efficiently. These By-Laws will be voted on and approved at the next Harford Chapter Roundtable Meeting (December 8, 2014). Only active youth members (20 years of age or younger) within the Chapter will have a vote in the voting procedure for the By-Laws. Please take the next month to review these By-Laws and provide feedback on any changes that you would like to see within the proposed document. Please bring your feedback to the next Chapter Meeting where the voting will take place or send your concerns to Mike Phillips. His email address is listed below.
Mike Phillips
Harford Chapter Associate Adviser (Program) & Harford Chapter Associate Adviser (Service)
Email – nandk1@verizon.net
Click link for Proposed Harford Chapter By-laws