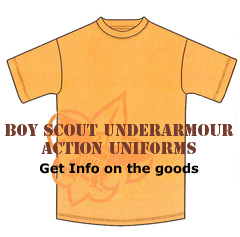 You can purchase your Boy Scout Under Armor Action Uniform shirts for you and/or your Baltimore Area Council Boy Scout Troop by clicking here and visiting our online store.
This test is limited to only registered youth and adult members of the Baltimore Area Council, Boy Scouts of America. No other individuals can participate in this test and uniforms will not be shipped unless you meet these criteria.

Also, youth pants, adult pants and adult collared shirt will be available Spring, 2011. Updates will be posted to the Area Scouter and www.baltimorebsa.org.
Thank you!!
Youth Size Chart
Size
Child Size
Chest
Waist
Height
YSM
8
26-28 in
66-71 cm
23-24 in
58-61 cm
50-54 in
127-137 cm
YMD
10-12
28-30 in
71-76 cm
25-26 in
64-66 cm
54-59 in
137-150 cm
YLG
14-16
30-32 in
76-81 cm
26-27 in
66-69 cm
59-63 in
150-160 cm
YXL
18-20
32-34 in
81-86 cm
28-29 in
71-74 cm
63-67 in
160-170 cm
Mens Size Chart
Size
Chest
Waist
SM
34-36 in
86-91 cm
28-29 in
71-74 cm
MD
38-40 in
97-102 cm
30-32 in
76-81 cm
LG
42-44 in
107-112 cm
34-36 in
86-91 cm
XL
46-48 in
117-122 cm
38-40 in
97-102 cm
XXL
50-52 in
127-132 cm
42-44 in
107-112 cm
XXXL
54-56 in
137-142 cm
46-48 in
117-122 cm
Woman's Size Chart